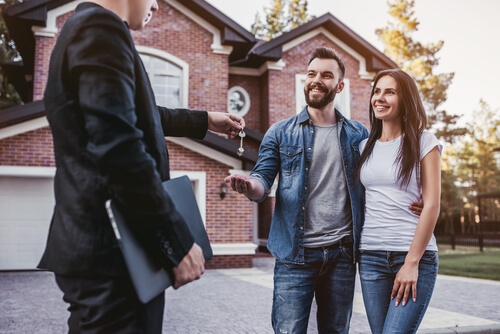 FHA loans (those sponsored by the Federal Housing Administration) are mortgages that allow low down payments and have relaxed credit score requirements, making them very popular with first-time homebuyers and those with less-than-perfect credit. If you think an FHA loan might fit your needs, the first step is to determine if you can qualify. Here are the basic requirements:
Credit Score & Down Payment Requirements for FHA Loans
Credit score and down payment requirements are tied together under FHA loans. For those who have a FICO credit score of 580 or higher, the minimum down payment requirement is only 3.5% of the home purchase price. If the FICO score is between 500 and 579, a 10% down payment is required. Those with scores below 500 are not likely to qualify for an FHA loan.
Borrowers must have at least two established credit accounts such as credit cards or other monthly payments, in order to prove responsibility with debt.
Debt-to-Income Ratio
While there is no minimum or maximum salary requirement for FHA mortgages, borrowers must have a debt-to-income ratio of 50% or less. That means all of your monthly debts, including credit cards, students loans, car payments and the new mortgage must not make up more than 50% of your monthly income.
Additionally, borrowers may not have any past due federal debts in order to qualify. These would include previous FHA loans, taxes or any other legal judgments.
FHA Loan Limits
FHA loan limits are based on the average housing costs in the surrounding area and can change periodically. The 2018 loan limit for single-family homes in most U.S. areas is $294,515 and $679,650 for higher cost areas.
Documentation for FHA Loans
Several pieces of documentation will be required to qualify for an FHA loan. Borrowers must be able to provide proof of a social security number as well as original pay stubs, W-2 tax forms or other tax returns.
Property Requirements for FHA Loans
Not every home or property itself will automatically qualify for an FHA loans. There are several criteria a property must meet. First the property must be used for your primary residence, with at least one borrower on the loan living in the property within 60 days of closing. FHA loans are meant to help individual homeowners, not to enable property investment. That also means homes cannot be purchased with FHA funds and then be flipped.
And of course, minimum property safety standards must be met and will be rigorously inspected during an FHA appraisal.
After meeting all these requirements, the final approval of an FHA loan is still at the discretion of the lender. Your odds of being approved will certainly be better if your credit score is higher and your debts are lower. Talking with a lender can also help you discover ways to be a better candidate for an FHA mortgage loan.
Do you want to find out if an FHA Loan is right for you? If so, contact Western Ohio Mortgage Corporation at 800-736-8485 today and we can go over the best mortgage options for your particular situation.