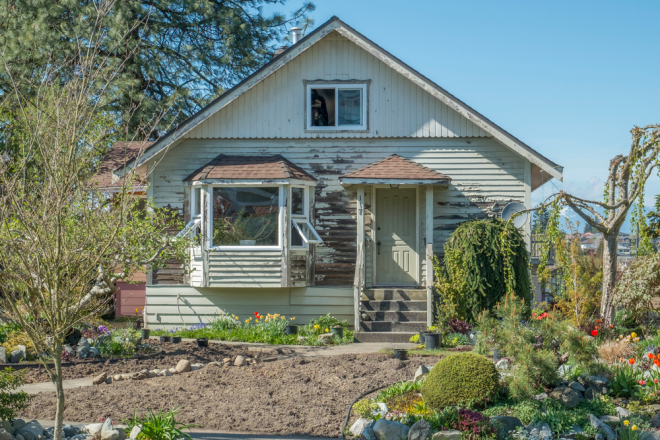 You've found the perfect property – or at least what could be the perfect property after a few improvements. Upfront repairs and renovations can take a toll on your budget though. Fortunately, there are several mortgage options that will allow you to buy the house and borrow money for improvements all at once. All of these home loans are made by traditional lenders and guaranteed by government agencies or groups.
Fannie Mae HomeStyle Renovation Mortgage
Government-sponsored entity Fannie Mae backs a mortgage product that is both a traditional mortgage and home improvement loan. Buyers can borrow up to 75% of the estimated post-renovation appraisal value of the home. Down payments can be as low as 3% in some cases and mortgage insurance can often be canceled after the buyer reaches 20% equity in the property. Borrowers need excellent credit scores of 720 or higher to qualify for the lowest down payments. With a 25% down payment, borrowers can have credit scores as low as 680. These loans can come in 15- or 30-year terms or in a variety of adjustable-rate terms. They can be used to purchase primary residences of between one- and four-unit properties or for one-unit vacation homes or investment properties. All home improvements must be completed within 12 months of the mortgage closing and your lender may need to pre-approve your contractor.
Freddie Mac CHOICERenovation Mortgage
Freddie Mac, another government sponsored company, offers a very similar loan package in its CHOICERenovation mortgage. It can be used to "rehabilitate, renovate, repair, or restore" an existing home. Borrowers with great credit scores can qualify for down payments as low as 5%, and credit scores as low as 620 are allowed for those putting at least 25% down. The CHOICERenovation loan with fixed rates can have 15-,20- or 30-year terms. Adjustable rate loans are also available. Primary residences, second homes and investment homes are eligible but manufactured home do not qualify.
FHA 203(k) Mortgage
Like the Fannie and Freddie loans, the Federal Housing Administration guarantees a single mortgage that covers purchase price and renovation costs. The FHA 203(k) can be a fixed- or adjustable-rate mortgage and borrowers must have a minimum credit score of 580 and a down payment of at least 3.5%. There are limited 203(k) loans for home improvement jobs of $35,000 or less. Standard 203(k) loans require the cost of repair and upgrades to be more than $5,000. The total amount to be borrowed is the lesser of the purchase price plus the renovation costs or 110% of the home value after rehabilitation. The loan terms for fixed-rate 203(k) mortgages can be 15,20,25, or 30 years. There are also loan limits based on the average home price of your individual county. FHA 203(k) loans are only for primary residences, not for investment or vacation homes.
VA Renovation Loan
For veterans, surviving spouses or active duty service members, the U.S. Department of Veterans Affairs backs home improvement loans that can be made at the time of the property is purchased. Borrowers typically need a credit score of 620 or higher and the renovation funds are paid directly to VA-approved contractors doing the work. In many cases there is little or no down payment required and the closing costs are limited.
These home improvement loans are great options for helping you rehab a fixer-upper immediately. Because they are all guaranteed by government agencies and the risk to lenders is decreased, mortgage lenders are willing to give better rates and terms, allowing you to make your renovations at an affordable price.