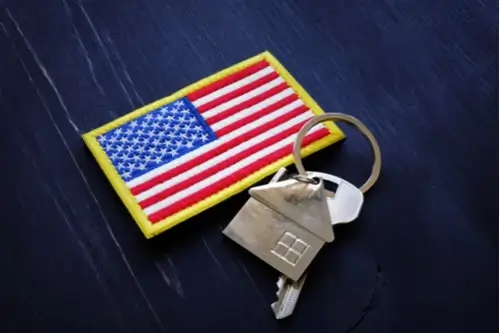 In the red hot housing market of the past few years, sellers usually have multiple offers, often getting more than their listing price. If you are using a VA loan to back your purchase you may worry that sellers might choose conventional-loan-backed offers over yours. Here are a few things you can do to stay competitive with VA loan-backing in a seller's market.
The Difference Between VA Loans and Conventional Mortgages
First, it's important to understand what makes a "strong offer." Sellers are looking for the bid with the most amount of money and least amount of hassle. That means they are looking for offers that look like the buyer is in a very good financial position. Conventional mortgages will typically require a minimum of 5% as a down payment whereas VA loan borrowers can put nothing down in some cases. Consider this situation: the bidding war on a house pushes the price well beyond the listed price. There are two offers for exactly the same amount, one with conventional funding and a 20% down payment, and one with VA loan backing and 0% down payment. If the home appraisal comes back lower than the contracted sale price, these buyers will have to come up with extra money from their own personal funds to cover the difference. Looking at the two offers, the seller is likely to choose the buyer with a 20% down payment, perhaps thinking that they have more money to work with. 
VA loans are extremely good loans as well though, typically making up about 15% of all home purchases. These mortgages, partially backed by the Department of Veteran Affairs, provide veterans and their spouses with excellent benefits, like low or no-down payment requirements, no private mortgage insurance, and no set credit score requirement. And they close on time, with no problems, just as often as conventional mortgages do. So how can you convince your seller that your VA loan offer is the best in the bunch?
Work with an Experienced Lender
Take care to find a mortgage lender who specializes in VA loans. Their knowledge of ins and outs of the funding can help you know how to strengthen your offer. They might also be able to add a note in your pre-approval letter mentioning their know-how and how many recent VA loans they have had.
Increase the Down Payment
If you can afford to contribute anything as a down payment, the seller will probably consider your offer stronger. If you can put down 5% that will match the minimum of many conventional loans. Plus putting down 5% will decrease the VA loan funding fee you'll have to pay from 2.3% to 1.65%. 
Add Favorable Terms
If you can't make a larger down payment, you could consider offering more to the "earnest money" deposit made before closing. You could really make a mark on the seller by offering 5% for example, rather than the required 1%. This signals commitment and a financial ability to close the deal. Or you could offer to waive some of the contingencies to show your dedication to this purchase.
Competing with a VA loan in a hot market is definitely doable as long as you come prepared with a little knowledge of how to sweeten the deal!