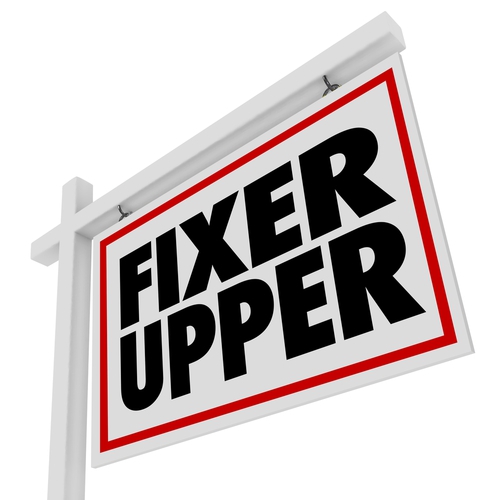 You have found your dream house but it will take significant work to make it a home. You do not have cash in savings to pay for both a down payment and the repair costs. Not to worry - this is not a hopeless situation. Fortunately, there are two types of mortgage loans available for just this scenario: The Federal Housing Administration (FHA) 203(k) rehabilitation loan or Fannie Mae HomeStyle Renovation Mortgage.
FHA 203(k) Mortgage
The Federal Housing administration has provided a home loan that allows buyers to borrow enough money to cover the price of the home plus the estimated repair costs if that total is no more than 110% of the estimated appraised value of the home after the proposed renovations.
There are several requirements for FHA 203(k) loans. First borrowers must provide a down payment of at least 3.5% and have a minimum credit score of 580. (Although if you put down at least 10% for the down payment, the FHA will accept credit scores as low as 500.) Because it is an FHA loan, borrowers will also be required to pay 1.75% of the loan amount upfront as mortgage insurance and 0.85% on the principal balance for insurance annually for the life of the loan. In order to avoid paying mortgage insurance forever, buyers could consider refinancing sometime after the renovations are completed.
The property must cost less than the FHA mortgage limit for the area and the repairs must total more than $5,000. Almost any type of repairs are allowed, including demolishing a home and fixing up the foundation before rebuilding. This type of loan is not generally for do-it-yourself buyers though. Borrowers are required to hire a 203(k) consultant or contractor who will oversee all the renovations.
Fannie Mae HomeStyle Renovation Mortgage
This loan is great for those who have some major renovations to do as home buyers can borrow money to cover repairs that cost up to 50% of the completed property appraised value. The renovations can include almost anything: remodeling, repairs and even energy efficiency enhancements, as long as the improvements are permanently affixed to the property and increase the home value.
The loan amount will pay for labor and material costs as well as inspections, permits and licenses, and architecture and engineering fees. In addition to all of that, the loan can also include an optional 10% reserve for contingencies. The lender will oversee all renovations.
Investors are also allowed to take out HomeStyle Renovation mortgages with down payments of 15% or more. Investors may not borrow 203(k) loans.
The requirements for HomeStyle Renovation loans include down payments of at least 5% and credit scores of 680 or more. Property prices must fall under the conventional mortgage limits for the area and the work must be completed in 12 months. Private mortgage insurance (PMI) will be required for any loans with down payments of less than 20%.
If you are willing to wait a little for repairs and do the work to meet the loan standards, home renovation loans like the FHA 203(k) or the Fannie Mae HomeStyle Renovation mortgage can help you buy the fixer-upper you love.
At Western Ohio Mortgage Corporation, we are available by phone at 800-736-8485 to answer any questions that you have about this important topic and to give you the best advice for your particular situation. Whatever you decide is best for you - we can help you.