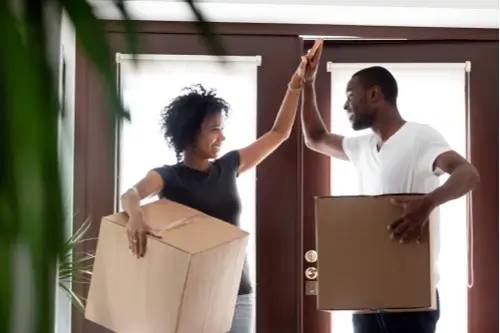 Buying a home for the first time is often exciting, scary, and overwhelming all at the same time. When you're ready to move on from your starter home, you will be familiar with the home buying process, but there are still a few things you might want to consider as a second-time buyer.
Interest Rates
Depending on how long ago you bought your first home, conditions in the housing market may have changed dramatically and could affect second purchase. For example, long-term mortgage interest rates are current near historic lows, having stayed around or under 3% for over a year, whereas they were reaching around 5% three years ago. That amount of interest can make a big difference in how much house you can afford the second time around. If rates are significantly higher than when you bought your first place, you might need to save up a bigger down payment or consider paying more mortgage points to buy down your new interest rate.


Inventory
You may be pickier the second time you buy a home; you've had time to figure out which features you do and don't like in a house as well as ones you wish you had. Your selection of homes may be smaller just by virtue of your preferences, but you should also pay attention to house much inventory is available in general. In today's market, demand is far outstripping available housing supply, limiting buyers' ability to move up in homes. Your real estate agent can give you a good idea of current inventory conditions.


Home Prices
How quickly home prices are rising may be a big factor in which next house you buy. Today, high demand, ultra-low interest rates, and anemic inventory have pushed prices to all-time records. Wages have not been keeping up with home value increases though, making it harder for Americans to afford a new home. General inflation levels are climbing faster than salaries as well. All these factors play into whether you can reasonably buy your next home now.


Available Mortgage Credit
Mortgage lending standards vary from time to time and you may need to improve your credit profile this time around to qualify. For example, before the finance crisis in 2008, lenders were very liberal with funding, making plenty of riskier loans like interest-only and no-documentation mortgages. Today, however, standards are higher, with better credit scores and more proof of income and assets required. You should also take a look at your debt-to-income ratio; if you've taken on a significant amount of debt since buying your first home, it may change how much you can borrow or at what rate.


Selling Your Current Home While Buying
This is one of the most nerve-wracking aspects of buying your next home. Typically, buyers can put in an offer with a contingency that they can back out if their own home does not sell in time. In competitive markets though, sellers may only accept contingency-free offers. In this case, one option is to try to sell your home first and then hope something is available when it goes under contract. Another option is to sell your home to one of the companies that buy homes with cash but let you stay in your place until you find that right one.


Changes to House Construction
Housing codes are always being updated. You may want to familiarize yourself with what is being required in new homes in terms of safety to see if those changes are important to you in a second house. You may also want to consider finding a place with more energy efficiency upgrades to reduce your utility costs going forward.


Length of Stay
Finally, consider how long you plan to live in this second purchase. If it's a substantial amount of time, you may be more concerned with the longevity and quality of the roof and HVAC systems and other large structures and features that could cost you a lot to replace down the line. And if your family will be growing or shrinking during the time you live in this next place, its good to find a home that can adapt to those needs.